AOR (app-o-roma) March Madness 2013!
I've been waiting some time to do an App-o-Roma (AOR), but there weren't enough good offers aligned for me to finally pull the trigger until earlier this month. For those of you who don't know what an AOR is, it's when you apply for multiple cards on the same day so that credit issuers do not see other credit inquiries on your report, thus increasing your chances of getting approved.
Final result: 4 new cards added to my wallet, 315,000 points, & a promise to pay $15,000 over the next 3-4 months! I even considered adding one more but figured I would be a little more conservative 🙂
Here are the new cards:
1. AMEX business premier rewards gold card. 75k points after $5k spend in 3 months (Although the banner below lists $10k spend, I was able to find a link for $5k). The usual spend required is &10k on a deal like this, and the point offer is usually only 25k-50k. This one was a no brainier and probably pushed me to do the AOR knowing it would not last long (it didn't, the offer link disappeared the night I applied). $175/year annual fee, waived the 1st year.

2. Chase ink bold. 50k points after $5k spend in 3 months. This is the normal offer but I haven't yet gotten myself in Chase UR's yet until now. Given the 5x bonus category and some big upcoming purchases I needed to make, Chase ink clearly made the cut.

3. Virgin Atlantic Bank of America/Amex cobranded card. Essentially this is a 50k offer after $2500 spent. This offer pops up every so often & BOA generally doesn't have a lot of good offers so this application wasn't going to take away from another card I wanted with the issuer. I also knew I have at least one flight to Las Vegas this coming year & the 50k miles could be redeemed on partner airline Virgin America (JFK-LAS) RT sitting in main cabin select, which I'm sure you all know is my favorite domestic airline by now. 🙂 Again, no brainer. $90 annual fee not waived.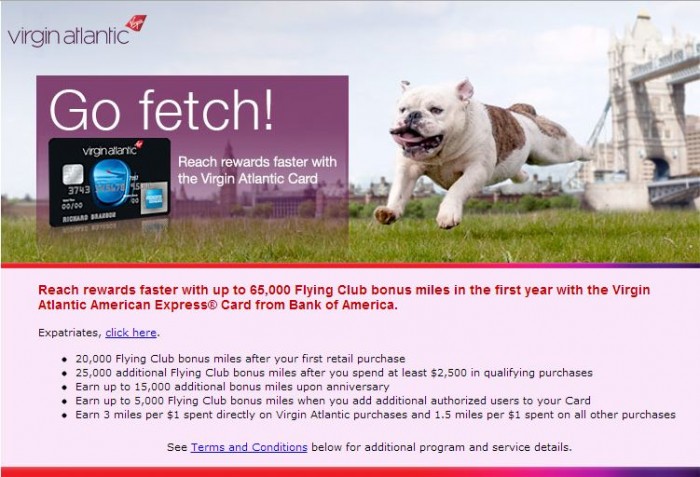 4. Barclays US NFL flexperks card. 40k points redeemable for cash back after $2500 spend in 3 months. Like BOA, Barclays doesn't have a ton of great offers. The last time I applied for a card with them was about a year ago & I knew I could fit another app into this AOR. A free $400 sounds good to me. Another perk is that this card doesn't have an annual fee so I'll throw it in the sock drawer after receiving the bonus and let it help build my credit.

So how do you think I did? Should I have gone for more?