Trip Review: Vegas! Done & Better than expected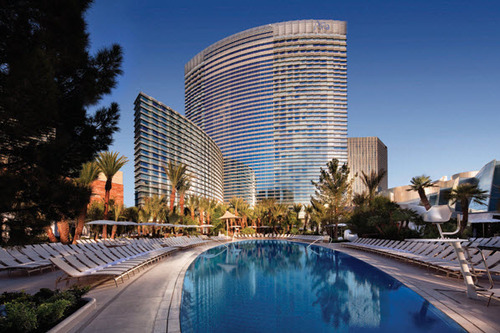 Aria Resort & Casino. Las Vegas, NV
Preview:
I'm stoked to be going back to Sin City soon! Everything has been booked already.
This time i'll be flying Jetblue non stop (the only way to go from JFK to LAS!) and will be staying at the Aria Resort & Casino. I got in on some terrific deals this time so I can't wait to give you the full details and review when I return from this trip.
Summary:
I'm home! If it's one place where things might get unpredictable, it's in Las Vegas. I'll detail more below, but when you combine good company with some good food, sprinkle in a little spontaneity, and add good gambling results, it's going to equal a good trip.
Costs:
So I had booked the Aria using a promotion with my AMEX Plat that included a $500 resort credit that could be used for anything including room charges. I had booked a regular room requesting 2 beds, but only 1 bedroom's were available. After a couple of incidents onsite (which I won't get into detail about), we were given an additional $100 food/beverage credit, and upgraded twice to different category rooms. Our final upgrade was to a Penthouse Skyloft panoramic suite which goes for $750/night. They also allowed us to stay in the room past the normal 11am check out, until 10pm! That's pretty much a full additional day without charge (or at very least a half day room rate)! The room rates with upgrades all combined were worth around $2149, not including tax and resort fees. They threw in a couple meals, a limo ride to the airport, and drinks at the pool too (So yes, that was quite an incident). They even gave me a future stay. Why do I have a feeling it won't take me too long to use it?
I made sure to stop in the Oasis Lounge going from JFK, and the Club Lounge in LAS's new Terminal 3 coming home. Extremely friendly staff in the LAS club lounge by the way!
Pictures of the Panoramic Skyloft Suite: (don't mind my dirty clothes, but this room is perfect for throwing a small party)