The Barclaycard Arrival World Mastercard, benefits & rewards explained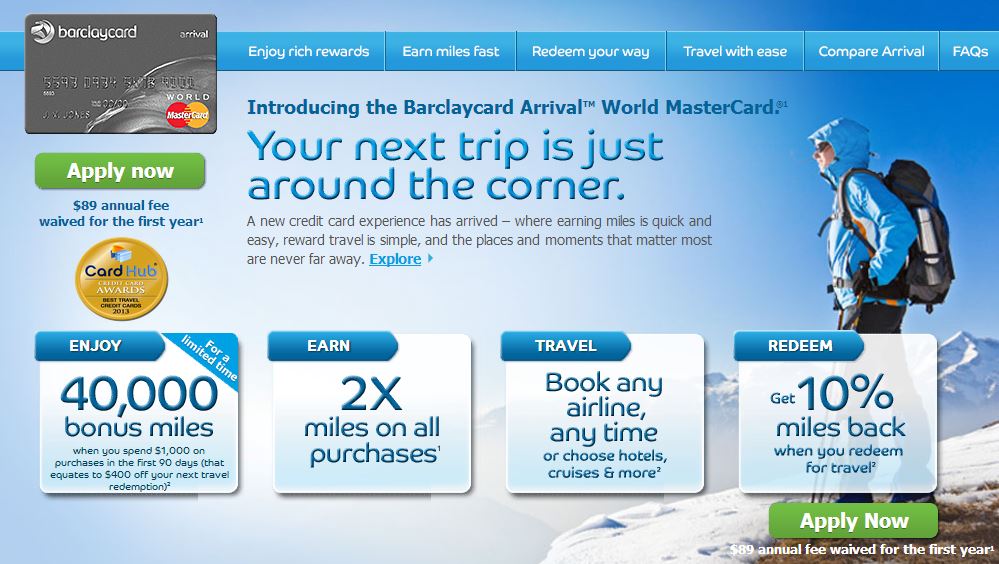 One of the credit cards I almost always refer people to, especially those who are new to the miles and points game, is the Barclaycard Arrival World Mastercard. So I thought it would be important to go over the card in detail, review its benefits, and how to use its rewards.
Why do I suggest signing up for this card?
– the annual fee of $89 is waived for the first year
– you get $440 back in travel 
– there's a low spending requirement to get the bonus ($1000)
– their rewards program is extremely easy to use, and has almost no restriction
The combination of these factors make this a guaranteed way for you to get at least $400 immediately for any type of travel expense. That's usually enough to cover a domestic round trip ticket in economy, a couple nights in decent hotel, or a 3-4 day cruise. You don't have to worry about award availability, or black out dates. Your purchase shows up as a normal charge, and then you "reimburse" the expense later on with your points through the Barclaycard portal.
Now let's get into the fine details of all the benefits you get from having this card. Here's how it's advertised: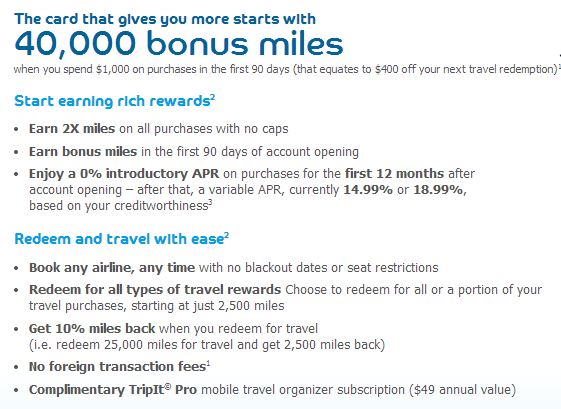 Here are some features I didn't mention already:
Get 10% miles back – after you redeem your rewards, you get 10% back, so that $400 flight you can reimburse yourself for will give you another $40 to use towards future travel.
No foreign transaction fees – this will save you a considerable amount if you're traveling overseas and have no other no FOREX fee cards.
Complimentary TripIT Pro – if you need help organizing your travel, this tool is great at reminding you when your trips are, the details, and if there are any delays. All you have to do is link your frequent flyer accounts and it will auto populate with your travel data. I've used this myself for a short period of time and have found value in it.
Earn 2x miles – if you're redeeming your miles earned on this card for travel, you're essentially getting 2.2% back on daily spend (due to 10% back on miles). That isn't too bad for a daily return, only if you travel every so often. Most people are only earning 1% with Chase Freedom or Citi Thank you points.
Now let's look at redeeming. Do you use your points to book travel? No. Their rewards system could not be any easier. You pay for any travel expense by charging it to your card, just like any other purchase. Once you have over 2,500 miles, you can redeem for $25 increments towards any travel expense in the Barclays portal, where you would pay your credit card.
What's important to note is that the airlines/hotels/cruises have no idea this is going to be free for you and treat the transaction as a paid fare or night, meaning you will earn miles flown, or night credit/points towards elite status. While $400 isn't going to get you elite status by itself, it may be a cheaper option if you're really close to elite status but don't want to pay for another flight or stay at another hotel just reach that status, but have it cost you more money.
Yes, this card carries a $89 annual fee after the first year. Some of you hate that, you truly do. It just pains you to have to pay an annual fee when you have a no annual fee credit card but I promise you this is where the big rewards are. Here's my suggestion if you really don't like the card, cancel it at 11 months before the annual fee hits and apply for a different one (and get that bonus too).
If you're a couple looking to go on a "cheap" vacation, this is a free $800 ($880 actually). What's holding you back from booking now?
If you're interested, apply through my link below. (In full disclosure, I do receive a commission if you sign up through this link. You don't have to use it but I would greatly appreciate if you did.)