Stop collecting points & signing up for cards! Really?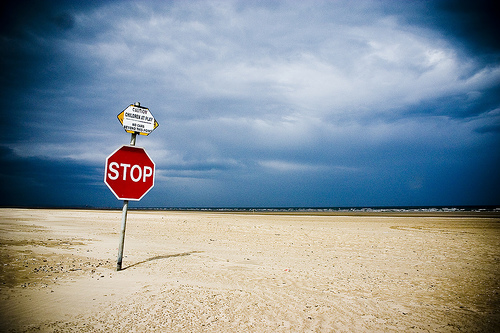 A friend recently forwarded me an article from Yahoo finance that listed "10 things not to buy in 2014". Link here. Coming in at #9 on that list, credit cards with points or miles programs. Their reasoning?
"Card issuers have been ramping up some of their rewards programs in the past few years, but consumers should steer clear of one common promotion: credit cards with rewards programs that are comprised of points or miles.
Many card issuers are devaluing their rewards programs by requiring cardholders to spend more in order to get the same "free award" they could have gotten previously with fewer points. What's more, many of these cards come with annual fees, ranging from $30 to $75.
Instead, consider a credit card with a "cash-back" program — a rewards program that's a lot more straightforward: consumers get 1% to 5% cash back per a certain number of dollars they swipe on their card." – Yahoo Finance
I thought it would be important to address this since other people may read this and think it makes sense.
Instead of slamming this post and outright disagreeing, I'm going to address everything they say and give you strong examples of why they are wrong. After all, Yahoo is far more reputable than I am right? Why would you believe me over them?
I'm assuming my readers are a lot more financially savvy and credit worthy than the general public. Although miles and points offer huge advantages, I would guess less than 5% of people out there truly take advantage of them. That's what I'm here for, to help you figure how to maximize your return, and make it easy to not only hoard gain miles, but to use them as well.
To Yahoo's credit, several loyalty programs out there went through a devaluation last year. Some more are on the way as well I'm sure, but that doesn't mean you should stop building your miles and points balances. Devaluations lessen the value of points within that program. For example, if an award flight used to cost 30,000 miles, now it costs 40,000 miles. Regardless, it should NOT stop you from collecting miles/points. You don't quit your job or stop earning money because of inflation, why would you stop collecting miles because of a devaluation? For example, would you stop making money because gas gets more expensive? No, you just find ways to get discounts, or earn money faster. Same with points.
"Some of these cards have annual fees." Wooooo … scary. The only cards I usually sign up for now are ones with annual fees. Guess what? They are the only ones that offer you real travel benefits, and several of them offer the first year free. That means not only can you reap the benefits of the sign up bonus (which is usually at least $400), you can also cancel after your 1st year is up, avoiding the "$30 – $75 annual fee" they mention.
As for several hotel programs out there, there are credit cards that offer 2 free nights at any property after signing up, and meeting the spending requirements. This type of redemption completely protects you from devaluations. To go back to the gas example, if you're offered a "free tank of gas", it doesn't matter if gas is $1/gallon or $1,000,000/gallon, you're still getting a free tank of gas. In this regard, the value of the free nights actually go up if you're comparing it to points required.
There are programs that offer free nights like IHG (Intercontinental), Hyatt, Marriott, and Hilton (Conrad). Several of these hotel brands have high end 5 star properties that can go for up to $700/night. If you're getting 2 free nights, how is this not a good deal, especially if the first year is free on the card? It's almost like winning a dream vacation every time you sign up for a card.
I'll show you an example.
Hyatt 2 free nights (Andaz – Maui, Hawaii): (this is for a friend who's planning to travel to Maui soon)


At $449/night, you're getting roughly $900 back in value from staying 2 nights for free.
Hilton 2 free weekend nights (Conrad – Koh Samui Thailand): (remember when I posted about my stay at the Conrad Koh Samui here)


At $1300+ per night, you're getting more than $2500 in value from the 2 free nights.
You get the point (no pun intended).
Yahoo's last comment is in regards to cash back. Cash back is fairly simple and easy to use. Yes, you do get 1%-5% depending on which card you have and how you use it. I've always been an advocate of cash back for people who don't want complex point systems, and don't travel a lot. It just makes more sense, but I don't want people to be blanketed by the idea that this is their only or best option out there. It's far from it.
Points and credit card sign ups will still bring you a very long way in your travel goals.
Do you agree with me or Yahoo?