A New York City mini-Do! & a definition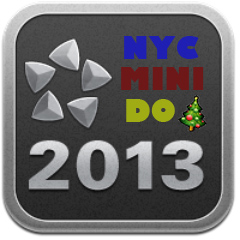 Most of you must be wondering what in the world a "mini-Do" even is. From what I understand (the newbie that I am), there was a term named "Mega-Do" first, where a bunch of frequent flyer's get together for a once in a lifetime trip, reviewing new planes, carrier offerings, and talk about travel & points.
More Mega-Do info here.
Mini-Do was derived from Mega-Do. (Don't ask me how they come up with these names, please.) It's where a few (3 or more) frequent flyers / bloggers / points & miles junkies enthusiasts get together on fairly short notice to talk about their favorite hobby.
Earlier this week, a few of us got together. Some friends were invited, some were not. Of the bloggers, katruns26point2, modhop, & canadiankms all came out for drinks & appetizers at Dock's Oyster bar for happy hour (in midtown NYC).
So what happens at these gatherings? I'll explain because it was my first of such meetings.
Well if you're not a points/miles/travel whore junkie, you will spend the night falling asleep over senseless banter about different ways we accumulate points and redeem them. Names you don't know like Brian and Darius will be mentioned by others repeatedly. You will be reminded that you're missing out by not collecting points, and others will be baffled as to why you're not partaking in this great hobby.
If you are one of us, you will completely nerd out talking about miles/points with other nerds who enjoy this as much as you do, if not more. I gained insight from those who have done this for a while, and their experiences. There's no need to worry about your significant other falling asleep while you go on and on about a mistake fare, or a great sign up bonus that was just announced.
Prior to this I probably would not have gone to one of the mini-Do's, but jamucsb suggested that I give it a try. It was well worth it. The fried calamari and beer wasn't half bad either.
If there's ever one going on in the future I will tweet about it, so follow me on twitter at Point2Steve if you're interested.
To protect everyone's privacy, we all put on high tech disguise protecting gear prior to the picture being taken. I'll let you guys guess who's who.