Las Vegas the P2S way, … in style & cost efficient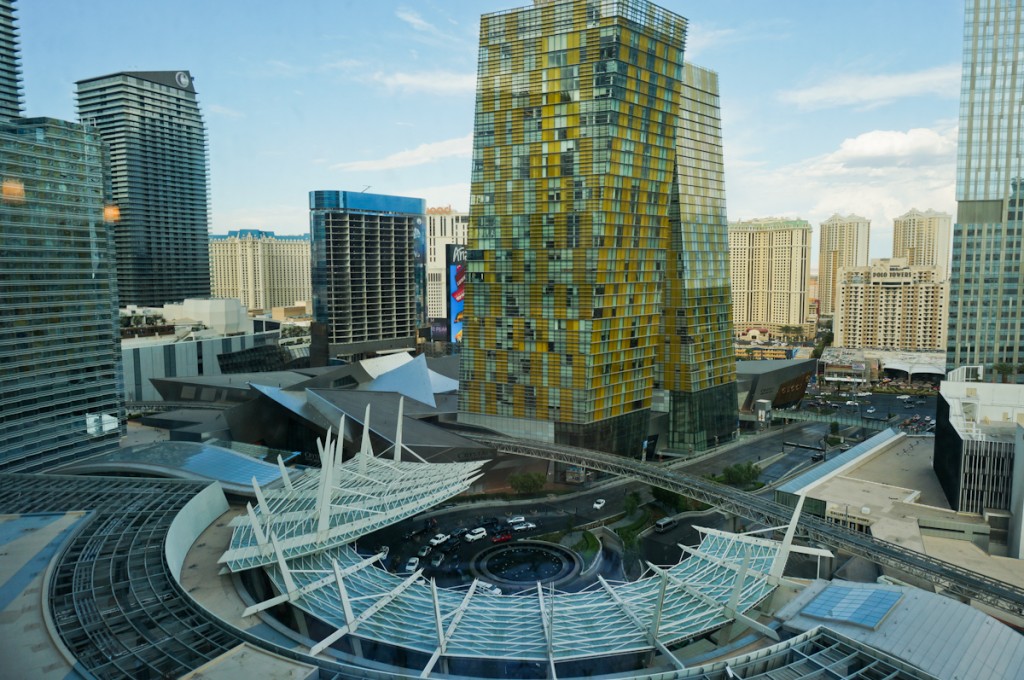 A few weeks ago, I mentioned Las Vegas several times on my social media accounts (Facebook/Twitter), & posted pictures during my trip. Now that I'm back home, I wanted to detail how the trip went, and give you all the non-juicy details on travel benefits I took advantage of while I was out there.
As far as the juicy details, I'll just say I had a great time with good friends. What happens in Vegas stays in Vegas, and apparently so did my money. 🙂
If you remember a couple of years ago, I spoke about my awesome stay at the Aria LV here. Part of the benefits I received from that trip was a complimentary future 2-day stay. I decided to finally cash in and use it this time. They gave me a 2 day stay in a city view deluxe room. The average nightly rate was about $179/night on Friday & Saturday.
For my flight, I wanted to fly Virgin America (my favorite domestic carrier), especially since my friends were flying with them. I had a ton of points saved up from my previous business travel and manufactured spending. VA points are worth about 1.5-2.3 cents per point, so my $650 flight only cost me around 44,000 points, which I already had. I also had to pay $5 per leg, so my flight cost me $10 round trip. The rates for main cabin select (their mid cabin product) were surprisingly also around $650. Snacks/movies/drinks were all complimentary with MCS & it also gives priority boarding so you won't be stuck with no overhead bin space.
When I got to the airport TSA-pre got me through security really quick. Some travel bloggers complain that its as slow as the regular security check, but I've never experienced that. I like the idea of leaving my shoes on, & not having to take out my Ipad out of my bag. TSA-pre/Global entry is free with AMEX platinum.
Summer weekends and big sporting events (Superbowl, March Madness) in Las Vegas are extremely busy, so don't expect much for upgrades and comps, but if you travel off-peak, you can really get in on some great deals.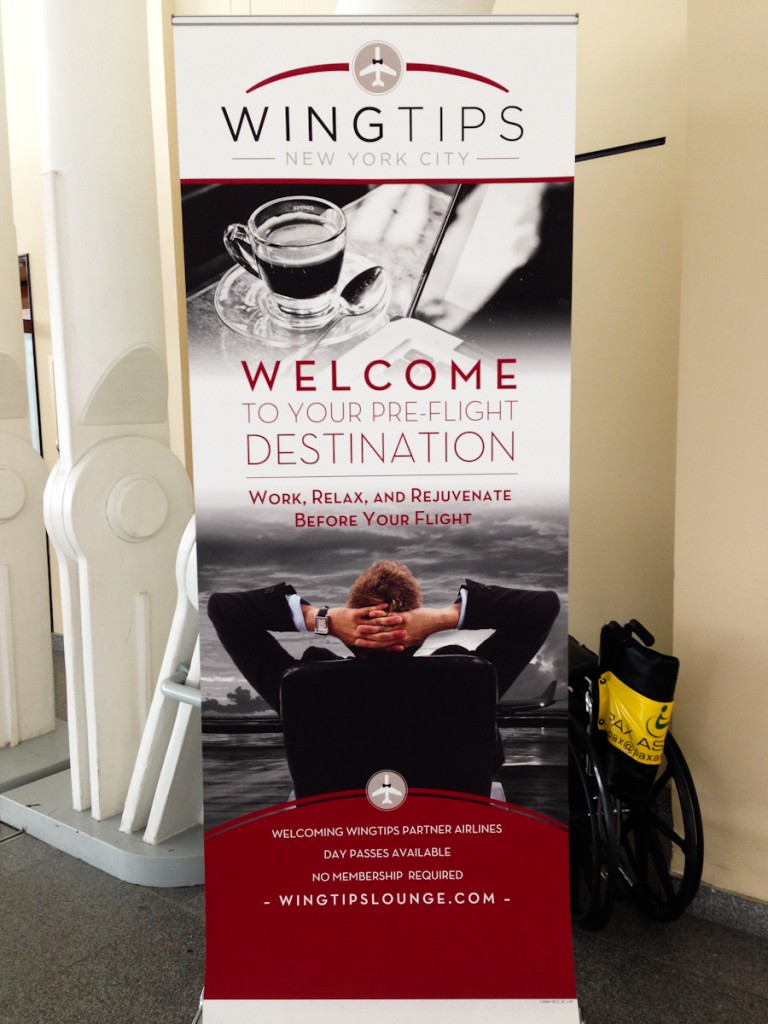 On my way there, I stopped by the Wingtips lounge at JFK, which I just reviewed here. And when I landed in LAS, I stopped by the AMEX Centurion lounge, which I have yet to review, but has been my best lounge experience yet. Complimentary access to both is given to Platinum card holders, and 2 additional guests.
I knew upgrades at the Aria were going to be tough so I didn't even try the $20 trick. Las Vegas casinos all have their own loyalty programs (mostly based off gaming/play), but a lot of partnerships have formed over the past couple of years. MGM (which includes Aria, Bellagio, Vdara, Mandalay Bay, Circus Circus, theHotel, Delano, Monte Carlo, Excalibur, Luxor, and several others) had partnered with Hyatt hotels last year. Part of the benefits of that partnership is reciprocal status.
To make things even more interesting, Hyatt offers their highest tiered status (Diamond) upfront as part of a challenge to achieve the higher tier in a shorter period of time, and less stays than normally required. During that time, you can experience the benefits of Diamond status. So I signed myself up, called Hyatt/Mlife to have my accounts matched, then had my Mlife account upgraded to Platinum (which is their highest).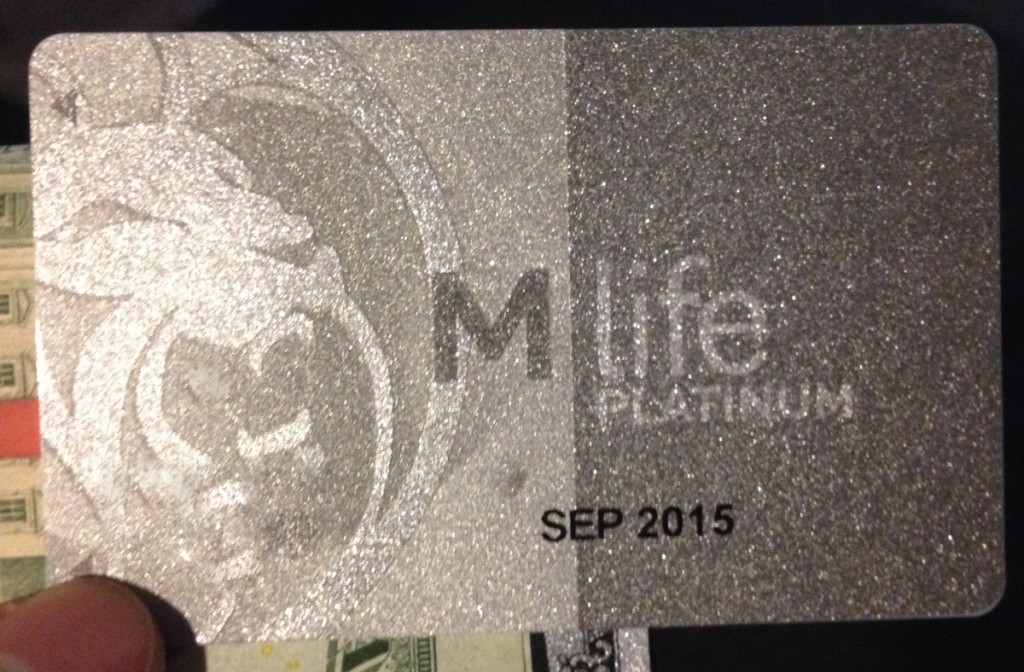 I went to pick up my Platinum card before checking in at the invited guest only, hoping it would help, but still, no upgrades were available. Shucks.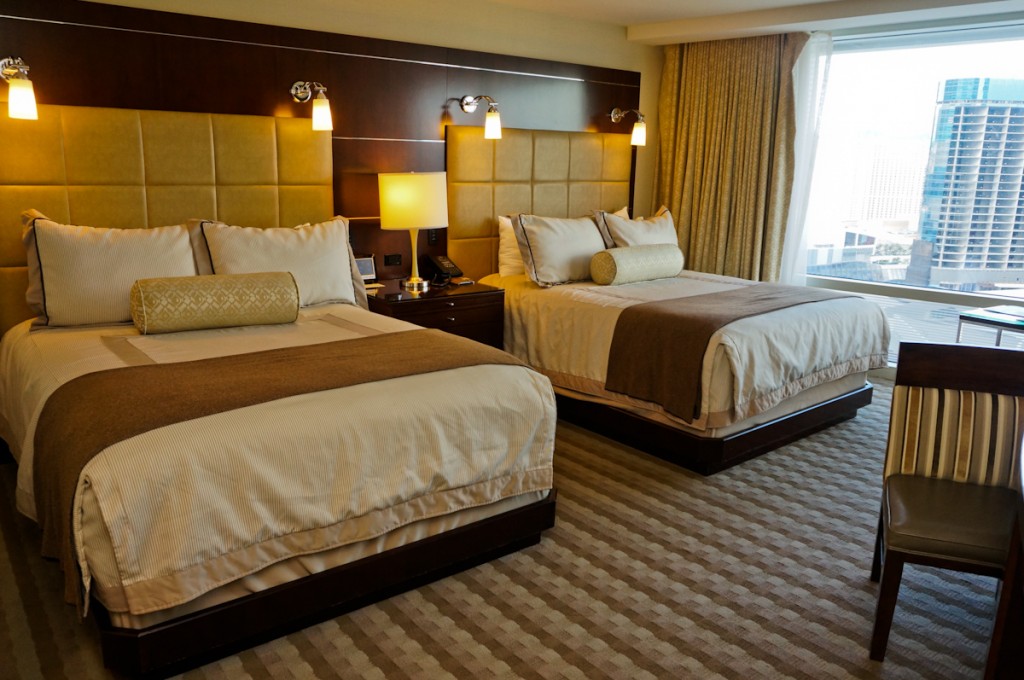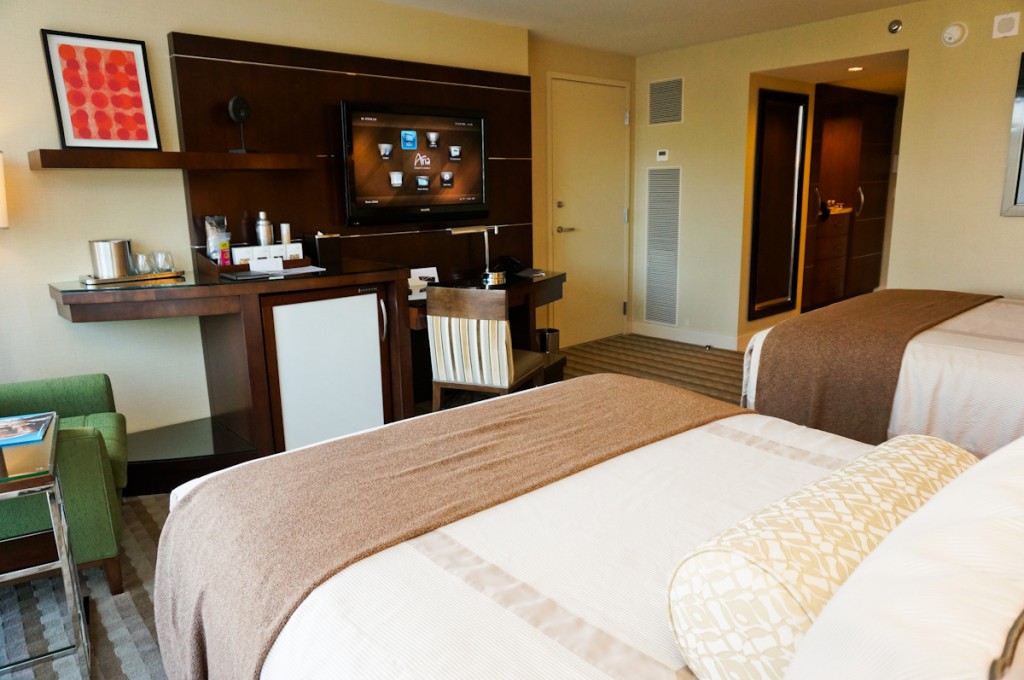 The room was as expected and the view was fantastic. After checking in the room I received a really nice welcome gift, chocolate covered strawberries and pastries from the general manager. Nice touch Aria.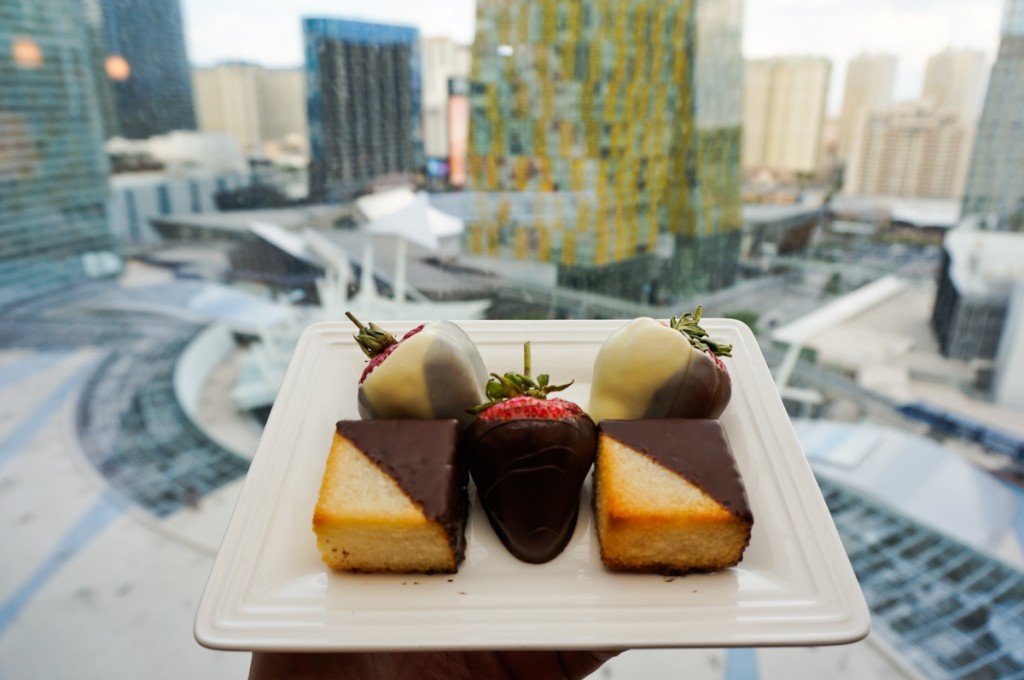 I rarely get a chance to involve sneakers & basketball into my blog, but to my surprise, Nike & the Cosmopolitan casino & hotel were hosting a huge launch event for the Air Jordan 29 sneaker release. Several NBA players were in town (Chris Paul, Carmelo Anthony, JR Smith) to coach AAU teams from around the country to compete at a court constructed inside the Chelsea ballroom. The court featured Jordan cement print accents. I was like a kid in a candy store.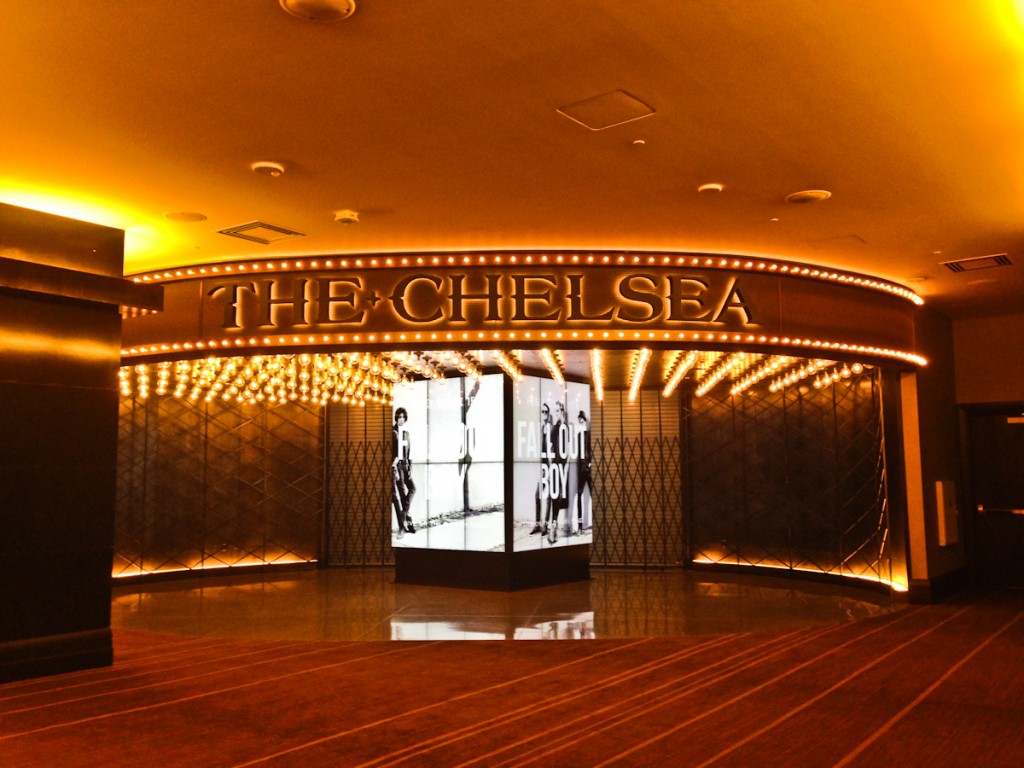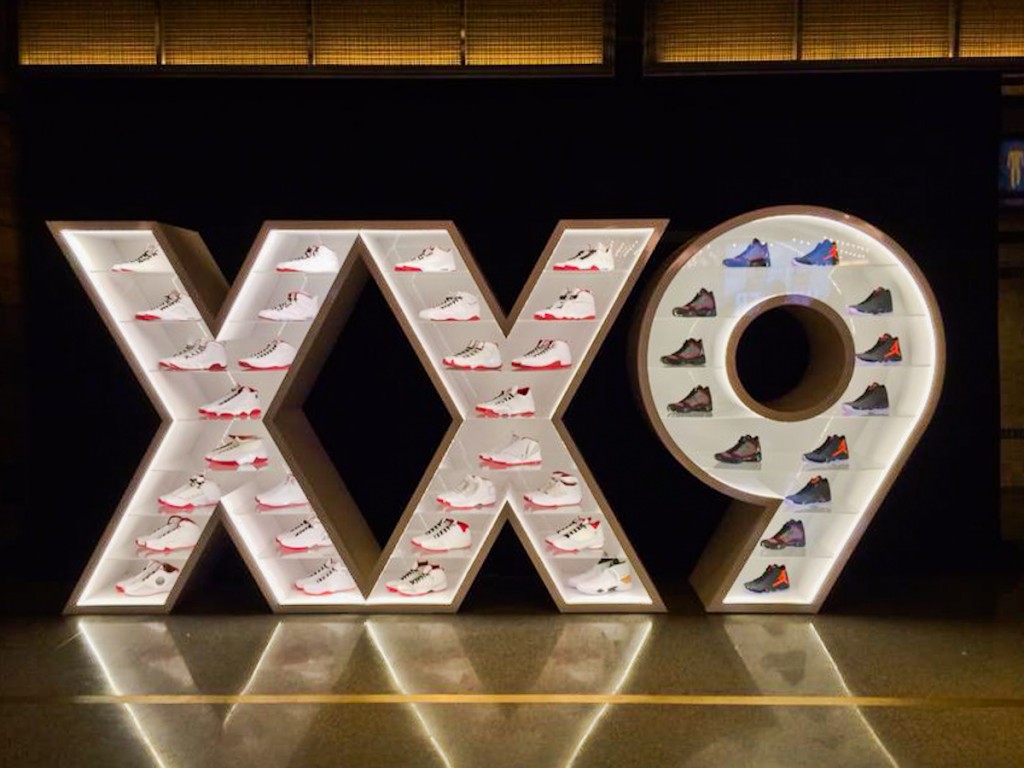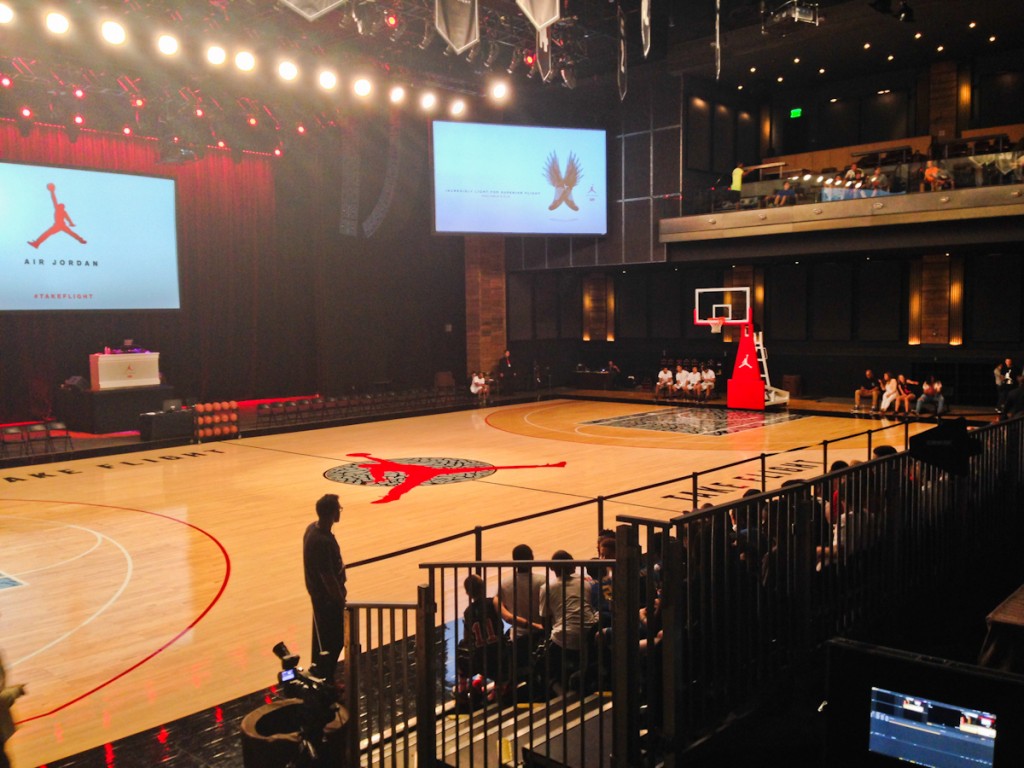 (insert juicy details that stay in Vegas here)… / the end. Now back to your normal non juicy programming.
Okay, I went to the pool for a bit.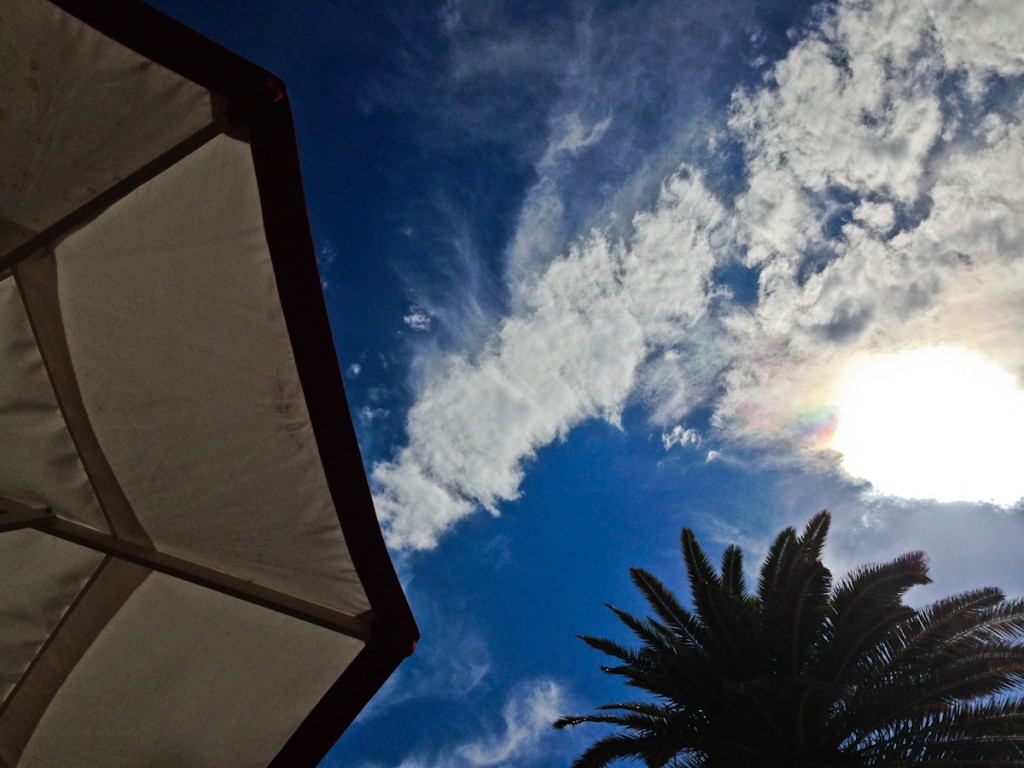 On the way home, TSA got me through security check nice & quickly again, but I had to take an air train to concourse D to get back to the AMEX Centurion lounge. It was only a couple minutes away, but very well worth it. On the air train ride back to concourse E, Kendall Marshall (NBA point guard who signed with the Milwalkee Bucks this off season) hopped on next to me and we had a short conversation about his upcoming season. I wished him luck in Milwaukee.
It was a red eye flight back so I didn't really take advantage of the snacks/movies/drinks, but it was helpful to board first, and deplane first.
I'm not going to lie, Las Vegas was still an expensive vacation, but I'd rather spend money on going out to eat and enjoying time with friends rather than airfare and hotel.
Another Vegas trip in the books, and another one booked for later this year. I can not wait. I'll likely take advantage of the lounge access & any Mlife benefits I get from having platinum status. I might even try the $20 trick next time. I kind of feel like staying at a resort/casino I've never stayed at before. Any suggestions on something I should do in Vegas in December? Some friends said to reserve a cabana for a pool party, but I have a feeling that isn't a good idea. 😉
Jet, you were there with me in spirit buddy.