100,000 point sign up offers are back! Can this be real?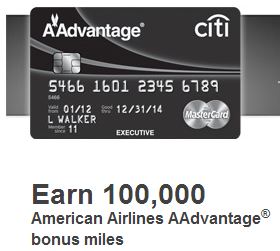 It was only a matter of time before a 100,000 point offer popped up again. Last year we saw the Amex Plat 100k early in the year, then the Chase British Airways towards the end of the year show up. Even at 1 cent per point, these deals are worth $1000.
So which is it this time?
Application Link (I do not receive a commission and cannot guarantee the bonus, but several people are reporting signing up, getting approved, and confirming the offer with the agent. If you just recently signed up for this, call and ask to be matched to this offer)
Last night, news broke that The Citi Executive American Airlines AAdvantage MasterCard is offering an astounding 100,000 American Airlines miles if you sign-up and make $10,000 in purchases in the first three months.  You also get $200 in statement credits on purchases in the first year & Admiral's Club access.
Other benefits include:
– Free checked bag
– The ability to earn up to 10,000 elite qualifying miles
– No forex fees
– $200 statement credit (sounds to me like this can be used towards any airline incidentals, so effectively the card cost is down to $250)
Here's the kicker, and what will cause most of you not to apply for this card. Annual fee: $450, not waived the first year. Throw in the $10,000 spending requirement and some of you are really turned off.
Is $450 really worth it? In my opinion, without a doubt. Should you sign up right now? Maybe, I'll explain.
With manufactured spending, I can reach that $10k spend in 2 months, to reach a total of 110,000 AA points. What can you do with 110,000 AA points you ask:
– If you remember my post about flying from JFK-HKG in business class on One World partner Cathay pacific, that required 110,000 AA points exactly. This ticket costs $7500.
– If you're using AA mileSaver rewards within the US, this is good for 4 round trip domestic tickets. family vacation anyone?
– Want to go to Hawaii? This is 2500 points shy of redeeming for 3 roundtrip tickets to Hawaii during off peak travel.
Paying $450 for any one of these is a phenomenal deal. So the reason I say "maybe" to signing up, is because I only recommend this if you're in a situation to take advantage of those miles, meaning you have planned travel where you can utilize 110k points. If you're going to be stuck at home for the next year, it doesn't make sense to apply. You'll still be out $450, won't get to use the $200 airline credit, and have 110,000 AA miles you don't know what to do with.
If you are in a situation to use them, I say apply now. Don't even wait until tonight until you get home. These offers disappear as quickly as they show up. I know some of my readers used to love churning Citi AA cards, and have run out of options. This is probably one you don't have yet.
One thing to note is that on the application page, there seems to be a referral code from the Admirals club, but it seems completely optional when filling out. There have been numerous success stories on this Flyertalk thread, and on several other bloggers websites. Again, I can't make any guarantees, but this looks good to me. Last time I posted about the unconfirmed Alaskan Airline deal, and sure enough, I received my 50k points after meeting the spend requirement. You have to decide whether this is worth the risk or not for you.
Are you going to apply or wait for the next big 100k? I really hope this offer pressures some other issuers in considering bumping up their offers as well.