Barclay's Arrival Card Travel Purchase, What Qualifies? & How To Redeem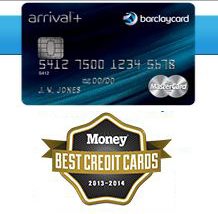 So you signed up for the Barclay's Arrival Card after reading my post here. Awesome, thank you (since I get a kick back from it. BTW, I have no idea who signs up, so if you do, let me know so I can say thank you personally). You've also met the spending requirement to get you the nice 40,000 points. Great!
Now, you might be asking "How do I use these points?, & What even qualifies as a "travel purchase?"
Since most of my readers are fairly new to miles and points, I like to recommend this card because it has a ton of flexibility, no black out dates, and redemption is fairly simple. Let's go over those questions:
1.  How do I use these points? 
Go to https://www.barclaycardus.com/ , create a login ID/password, and sign in
You will see a banner across the top of the page that looks like this: 
You want to click on "Manage Rewards" all the way on the right, where it says how many miles you have.
On the Manage Rewards page, you'll see several options for redeeming (travel statement credit, cash back credit, gift cards, and merchandise). I only recommend the first option, travel statement credit to maximize and get the most out of your points. The other options give you less value back per mile (and no P2S reader likes that). 🙂
As you can see, it states "Use your miles to redeem for a travel statement credit starting at 2,500 miles for $25 towards all or a portion of your travel purchases within the last 120 days."
So to use these miles, you would book your travel expense and charge it to your Barclays card as you would any other purchase. Within 120 days of the charge posting to your credit card statement, you would find it as a line item after clicking "Redeem Now".
You'll then be able to redeem your miles in blocks of 2,500 for $25 or more, for either the entire purchase, or only part of it. It's completely up to you.
That was the easy part. Now comes the more important question:
2. What qualifies as a "Travel Purchase" to Barclays?
It really depends on how the merchant codes their charge when informing Barclays of your purchase. All major hotels & airlines should qualify without having to second guess the merchant charge code.
What about AirBNB? VRBO? Priceline (and other 3rd party booking sites)?
Fortunately the community over at Flyertalk has been willing to test and share their own experiences of what does and does NOT qualify. (Thread here)
I'll paste the list here. I found it extremely helpful in finding more creative ways to get the full 2.2% back from my card. The list is up to date as of 9/6/14.
Here's the non-published Flyertalk community guinea pig items of what does and does NOT qualify as a Barclays card travel purchase:
============================================================================
Successful
NS Hispeed Train Tickets (nshispeed.com)
Capitaine Train Tickets (capitaine.com)
Eurostar Train Tickets (eurostar.com)
DB Bahn Trains Germany (bahn.de)
Super Shuttle (mixed, worked in SF when (billed SUPERSHUTTLE EXECUCARS), worked in Boston (SUPERSHUTTLE BOSTON), failed in LA (SUPERSHUTTLE)
rail europe on travelocity
New York City MTA Subway Cards
Boston MBTA Charlie Card reload & Commuter Rail passes & tickets
San Francisco Clipper Card public transit (autoload from website)
WMATA (Washington DC Metro)
Norwegian Cruise Line purchase made from telephone order from vacationstogo.com
rail JR Rail in Japan, load as tourist attraction, call in to get it credit (Post#938)
Alaska Airlines checked baggage fee $25 charge
Southwest Early Bird Check-in (billed separately from airfare charges)
cheaptickets.com hotel
Amtrak train ticket >$25 (ALB-NYP)
Amtrak train ticket >$25 (unknown destinations)
Buying Lifemiles from Avianca
Primetime Shuttle (Worked from LAX-SNA)
Orbitz.com purchase
Priceline
Las Vegas Show Booked through hotel
Hotels.com
Viator (sightseeing/tours)
Hertz Rent-a-Car (booked on hertz.com)
Zipcar
Hotwire
Hotel bookings through Rocketmiles (even refundable bookings or those tied to other promotions)
Trenitalia (both online and in stations, posts as rail-freight)
airbnb bookings
Wedding at the Stratosphere's Chapel in the Clouds (billed as stratosphere)
carrentals.com
LA Swamp Tours, Steamboat cruise, Haunted History Tours (New Orleans)
ACE Adventures (West Virginia White Water Rafting), had to call in to get it processed manually
Carmel Limo (NYC car service)
Amazing Bike Tours Thailand
Taxi in Zurich
Spirit of NY Dinner Cruises – www.spiritcruises.com, which have cruises in several other cities as well.
Limo Charges – Two limo charges that I made in March PRIOR the the recent changes to what qualifies as "Travel" showed up as eligible travel charges. I guess with the changes to what's covered, and for how long, these got pulled back in.
Lahaina-Maui Ferry Tickets – booked online at www.go-lanai.com
Wine purchases from different wine tasting rooms
Montway Auto Transport (deposit)
Dublin Bus Tours Hop on, Hop off (Green)
Sandals.com resort booking (unique vacations) was not redeemable last year. Is redeemable online now
Victoria Clipper (passenger ferry)
American Airlines telephone booking (including booking fee)
Successful – Plus Only
Uber
NYC Taxi
Empire State Building tickets
Evan Evans Sightseeing tours (UK based)- http://www.evanevanstours.co.uk
Space Needle and Chihuly Garden Tickets
Universal Studio Orlando tickets (had to call in)
Chinese Visa Application Fees (had to call in. Credit showed up in account in 2 business days. See Post 912 and 921 for details)
Taxi Magic /Curb- Taxi service
Unsuccessful (anything under $25 cannot be reimbursed)
Amtrak (possibly due <$25 charge)
IHG points and cash hotel redemption
www.b-europe.com (SNCB rail)
Description: ZERVE *CA WHALES Merchant Category: THEATRICAL PRODUCERS (EXCEPT MOTION PICTURES), TICKET AGENCIES…Tickets to whale watching tour purchased over the phone.
Car2go
Hostelbookers.com deposit (maybe the charge which is >$25 will count?)
Thello train (France-Italy night train, codes as rail-freight)
Brazil airline GOL booked online codes as DIRECT MARKETING/DIRECT MARKETERS–NOT ELESWH ..
Blue Water Rafting. Merchant category "Recreation Services — Not elsewhere classified"
Parking at IAH (Houston Intercontinental – on airport) -$76 (PARKING LOTS AND GARAGES)
Parking at SNA (John Wayne Airport)
Skyjump at Stratosphere Hotel LV $150 (01/14) – not charged by hotel.
Gotobus.com Long Distance Buses, ~$100
Global Entry
Monterey Aquarium
Parking at LAS
Fastrak tag autoload for San Francisco bridge tolls ($25)
St Pauls Cathedral (manual redemption by phone allowed)
Eiffel Tower (manual redemption by phone allowed)
Windsor Castle (manual redemption by phone allowed)
Don't forget travel purchase needs to be > $25 charge for 2,500 mile redemption
Partial redemptions are possible – however you cannot redeem against that charge again. So if you have a $500 charge and you spend 40K points against it, you cannot redeem 10K points for the remaining $100 of that charge.
============================================================================
I highlighted a few of my favorites because they either apply to me, or I think they would apply to my readers. Who wouldn't like a free $440 in Metrocards, taxi rides, and/or Uber rides from New York?