Reader Question: I received the AMEX Platinum 100,000 point offer, should I apply?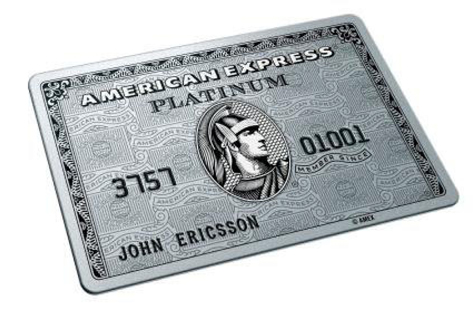 Update: Just wanted to add another benefit I forgot to mention earlier. If you like to shop online, and like free 2 day shipping, another benefit is complimentary ShopRunner membership.
So I heard one of my lucky readers received some snail mail from American Express with the coveted AMEX Platinum card 100,000 point offer. He was wondering if he/she should sign up or not.
As much as I want to flat out say YES! because this is my favorite card, let's just go over the benefits once again to see if it's for you. If you honestly will NOT travel at all in the next 12 months, then you may not need this card. After all (I want to get this out there), the card comes with a $450 annual fee that is NOT waived the first year. It's $175 for up to 3 additional card holders as well, and they also receive benefits (other than the $200 annual credit).
If $450 is your end all argument, then just stop reading here. Your mind is already made up. If you're curious, continue on.
Let's go over some of the card benefits:
$200 annual airline incidental – this goes by calendar year. If you remember my post here about buying AA gift cards, and having them reimbursed, you could apply now, buy $200 in AA gift cards now, then again in January. That's $400 value back already.
Airport Lounge access – these visits usually cost $30-$50 per person if you're even allowed in. Yes, American & Delta lounges were removed earlier this year, but now they are opening more Centurion lounges (DFW, LAS, LGA already, and SFO, MIA soon) which are by far better. You also get Priority Pass select membership which gives you access to LoungeClub lounges (which are also better than American/Delta). You'll have access to over 600 lounges worldwide. This is the best benefit of the card IMO. I recently visited Wingtips at JFK and The Centurion Lounge in LAS.


American Express Fine Hotels & Resorts – this is an exclusive benefits package when staying at high end hotels/resorts that give you benefits without having elite status. Early check in, late check out, room upgrades, free breakfast, and $100 credit for either food or spa. Rates have generally been the same as advertised rates. I've had really good experiences with FHR.
Global Entry / TSA pre – this normally costs $100 per person, but is complimentary for the main card holder and every person who is an additional card holder. The $100 charge must be made on every individual card and will be reimbursed. This gets me through airport security and customs in a fraction of the time it does on the normal lines. I wrote about my Global Entry sign up experience here.
Free Boingo Wifi – free internet access in Subway trains, public transportation. I recapped this feature shortly after it launched here.
Starwood & Hilton Hotel Elite benefits – who doesn't like to be treated like VIP, get upgrades, get free breakfast, free internet, free drinks? The AMEX platinum gives you complimentary Starwood SPG gold status, and Hilton gold status. SPG's mid tier gold isn't as rewarding as Hilton's mid tier gold, but either way you will have a better experience and chance of getting upgraded if you stay with these brands and have elite status. Normally attaining these would require several nights/stays within the brand.
Extended Purchase Protection – I put all of my electronic and big purchases on my AMEX platinum because of the 90 warranty they put on items. You lose it, you break it, it's stolen, AMEX will either ask you to send it in, or just reimburse the amount you charged for the item to your card. Simple as that. They also provide extended warranty for up to a year above a manufacturers warranty.
Roadside assistance – oh who cares about this benefit? ME! I actually had to put it to use last year. AMEX will tow your car free of charge for 10 miles. I needed to have my car towed from NJ to NY, and most quotes I received were $350 + tolls both ways. AMEX found a vendor they work with that only charged me $72. I never realized how important this benefit was until then. I also had to pay $80 for a local tow company to get me off state property first..
AMEX Concierge Service – I wrote about the AMEX Black card here, and how they have a concierge service. Guess what? As a Platinum card holder, you're entitled to pretty much the same concierge service. This is a useful tool to help you save time doing research and calling for reservations. Don't expect them to perform miracles, but this can definitely make your life easier when you're in an area trying to enjoy yourself rather than plan.
I'm not even finished yet, there are some other benefits too:
– Currently offering complimentary Amazon Prime membership
 – No foreign transaction fees
 – Limousine program (not complimentary)
 – By invitation only events (sports / culinary / concerts)
 – Complimentary subscription to Departures magazine
The AMEX platinum card is jam packed with luxury travel, being pampered, and making you feel special/protected while you're on vacation. If your idea of traveling is staying in hostels for $20/night, then this card (and my blog) probably aren't for you. If you like saving time, and being treated nicely, then this card might be for you.
I usually don't recommend signing up for the card when the bonus is 25,000 points, but at 100,000 for me its a no brainer. That's equivalent to $1000 (at very least) on top of all of the benefits it comes with. I also have a referral link for 40,000, which I would only sign up for if you need this card immediately and don't want to wait for a better offer. Let me know if you want the link.
So for 100,000 membership rewards points, would you sign up right away?
If you have a small business and want this offer, I have an interesting post coming up soon for you. 🙂