Reader Question: I'm attending a wedding in Hawaii, can you help me save money?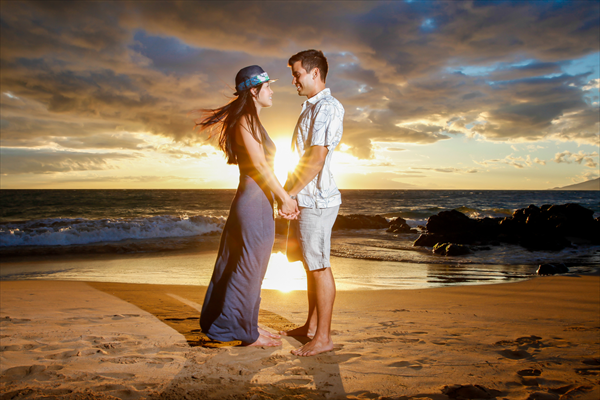 I haven't posted a reader question for some time now, but that doesn't mean I haven't been getting questions from you guys. Several of you prefer to contact me offline, and I'm fine with that. It gives me good ideas on what I should be posting on. These types of posts also show you how I would break down a trip for maximum savings.
So for today's reader question, my good friend "Bobby" asked me: "I got invited to a wedding in Maui this summer (early May), is there anyway I can save some money?"
I thought this reader question would be helpful for several people since so many people I know, know of someone who's gotten or is getting married in Hawaii.
Some additional facts:
– Bobby is a miles newbie and doesn't have many credit cards
– The wedding along with all guests will be at the Hyatt Andaz Maui.
– Looking to stay over 2-3 nights
– Leaving from New York City Airports (JFK / LGA / EWR)
– No preference on airline, just cheapest possible.
Before we start breaking down the trip, just a couple notes on traveling to Hawaii:
– Traveling to Hawaii usually has a "peak" and "off peak" award calendar that's defined differently by different airlines. Generally the summer months are considered peak, and award availability is going to be more difficult.
– Maui (OGG airport) is usually going to require multiple stops to get to from the east coast stopping in Honolulu (HNL), Dallas Fort Worth (DFW), or Los Angeles (LAX).
This is how I would plan this trip:
Airfare: 
American Airlines has "Milesaver" awards going from LGA-DFW-OGG, and OGG-LAX-DFW-LGA for 45,000 AA miles & $20 in taxes and fees. (Half the points and cash for a one way award). See picture below. There's actually good availability in the 1st week of May, but drops off significantly after that.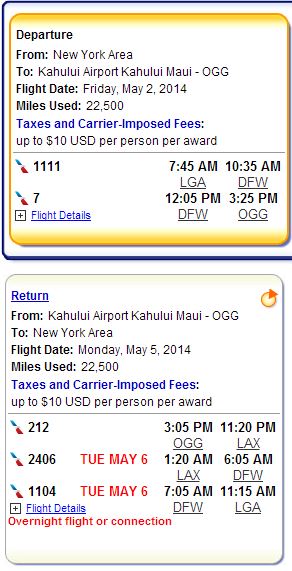 I priced out a similar itinerary on AA.com without points, and the fare came out to $946.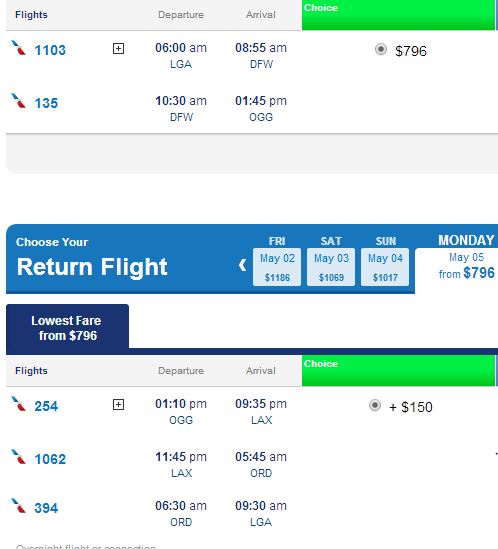 As far as getting 45,000 miles, there's a hidden link still offering 50,000 AA miles with the Citi American Airlines advantage card. (1st year free, $3000 spending requirement)
Hotel: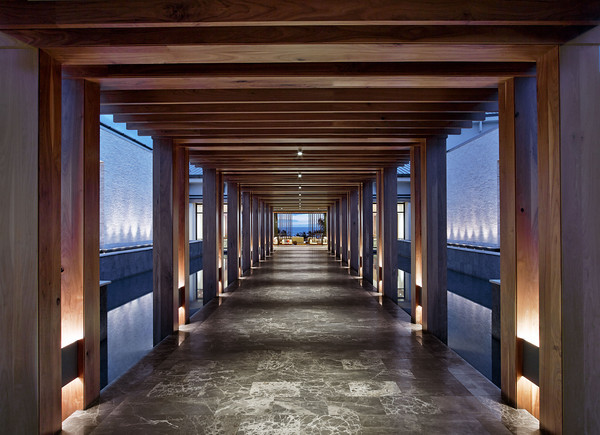 The Hyatt Andaz Maui is a fantastic 5 star hotel in Maui that's been reviewed by several travel bloggers already. What's even better is that Chase offers a Hyatt credit card that offers 2 free nights at ANY Hyatt hotel in the world just as long as there's points availability. One thing I don't like about the Hyatt website is that it will only show you availability if you have all the points needed to book, otherwise you can't see them. What you can do to find is call them, and their agents can view availability for you. Their contact page is here.
I called to ask about award availability, and although they can't hold rooms for you, that there was availability all throughout May right now.
I decided to look up a few nights at the Andaz Maui to see what normal pricing is like.

At very least, you're looking at $350/night, for a prepaid non refundable rate. Assuming Bobby is staying for 3 nights, 2 of those nights could potentially be free with the Chase Hyatt credit card. (1st year free, $1000 spending requirement)
To cover the last night, I recommend Bobby also to sign up for the Barclay's Arrival card, which offers $400 back in travel (airfare, hotel, cruise). That should cover most, if not all of his last night at the Andaz Maui. (1st year free, $1000 spending requirement)
If everything works out, meaning he's aggressive enough to apply for all 3 cards:
– Citi AA (50k bonus)
– Chase Hyatt (2 free nights)
– Barclays Arrival Card ($400 back in travel)
get's approved, meets the spending requirements (shouldn't be hard with MS), gets the points deposited, Bobby should be able to book (granted award availability hasn't changed)!
How does $20 in fees sound in exchange for a vacation that would normally cost $2500?