How I stayed at the Conrad Koh Samui, Thailand for $65.83/night, probably less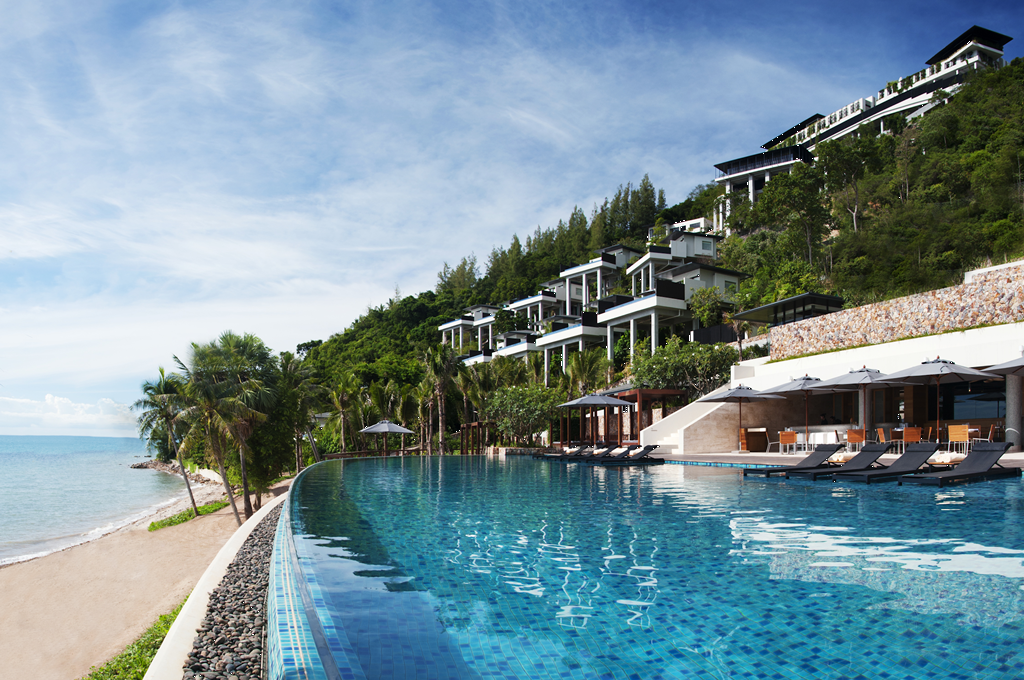 (Conrad Koh Samui, Thailand – my #1 resort)
This is a continuation of my Asia Trip review.
Based on the feedback I received from the "How I flew from New York to Hong Kong in business  class for $85.50" post, I felt I had to continue on with the series as I had made some major redemptions for the trip.
During my time in Asia, I made a stop over in Koh Samui, Thailand and stayed at the Conrad. For those of you who are unfamiliar with the Conrad brand of hotels, they are in the same category as Ritz Carlton, Four Seasons, and Waldorf Astoria. They are under the Hilton Honors hotel brand, who earlier this year, severely devalued their point system.
I want to start off by saying this is #1 on my list of nicest hotels I've ever stayed with. The room included a private infinity pool facing the ocean off the south-western tip of Koh Samui. Each villa is built into the side of the mountain and is supported by stilts. The road to and from all villas, front desk, restaurants, and piers is so narrow and steep that they send you a private golf cart to escort you every time you want to go anywhere. You just call reception and they send one over in minutes. The room itself was amazing. From the decor, entertainment system, spa like bath, to the private pool, everything was made with luxury in mind.  You could even have a private fire pit dinner inside your villa if you wanted.
I decided to check rates for a random date in the future this year to give you an idea of how much it normally costs to stay at this resort.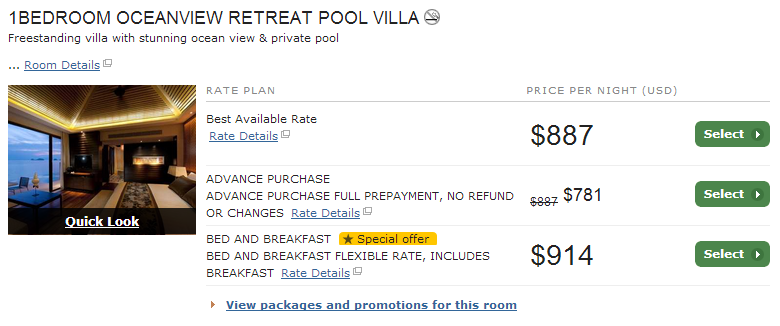 (Conrad Koh Samui, Thailand – Sample booking 2013)
So again, for a room that costs $914 USD/night (because we did have that breakfast too since I'm Hilton Honors Gold), how in the world did I only pay $65.83/night?
And again, let me try to open up your eyes as to how much value points can have. Before Hilton devalued their point system, the Conrad Koh Samui was one of the best point value redemptions within their entire system. One night off peak could be redeemed for 50,000 Hilton points/night, and there was great availability. If you were able to book something called an AXON award for 4 nights, the rate went down to 42,500 Hilton points/night. What an insane deal! I even booked 2 more rooms for other parties traveling with me so they could experience it as well.
That still seems like a lot of points right? So even a 2 night stay would require 100,000 points you would have to accumulate. I received some points for a credit card sign up bonus, but I was able to amass most of my points through "manufactured spending".
What in the world is "manufactured spending" you ask? It's a common practice in the points collecting world where you find creative ways to spend money, but actually just cycle it back to yourself. If you purchased an item for $1000, charged it to your credit card for 1000 points, then sold the item right away for $1000, your net cash is $0, but you've gained 1000 points via credit card spending.
If you own a Hilton Honors AMEX card, they used to offer 6pts/dollar spent at drugstores. I would purchase $500 Vanilla Reload cards from a drugstore for a $3.95 fee/card for 3000 points. I would then load that $500 reload to AMEX's Bluebird prepaid product, and simply write myself a check for $500. They allowed up to $5000/month to be loaded, so I could purchase up to 10 ($500 Reloads) / month. The end result was 3000 Hilton points for $3.95 (or 30,000 for $39.50).
Let's do some math to figure out how I came to the $65.83/night rate. Since a room is 50,000 points/night, and I received 3000 pts / reload card purchased, it takes roughly 16.67 cards to reach 50,000 pts. At $3.95/card, 16.67 cards equals $65.83.
Unfortunately after the devaluation, the Hilton Honors program completely revamped the categories and redemptions for all hotels in their brand. Now you'll be lucky to find a points rate for this property to be 95,000 points/night. That's right, it almost doubled, and very often I've found rates to be closer to 270,000 – 300,000 /night. How insane is that? Just check out the examples below: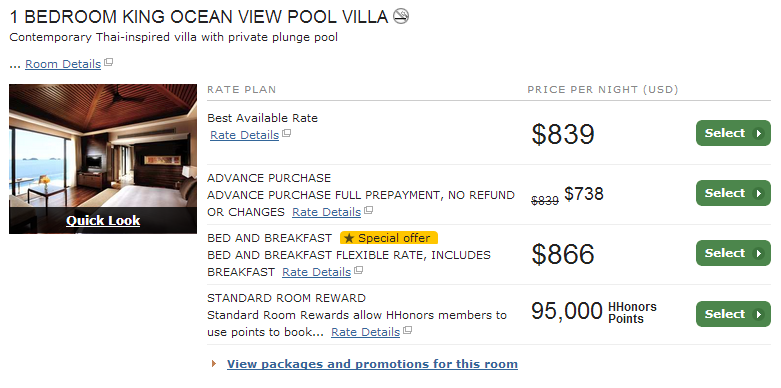 (the lowest possible rate redemption for Conrad Koh Samui is now 95,000/night)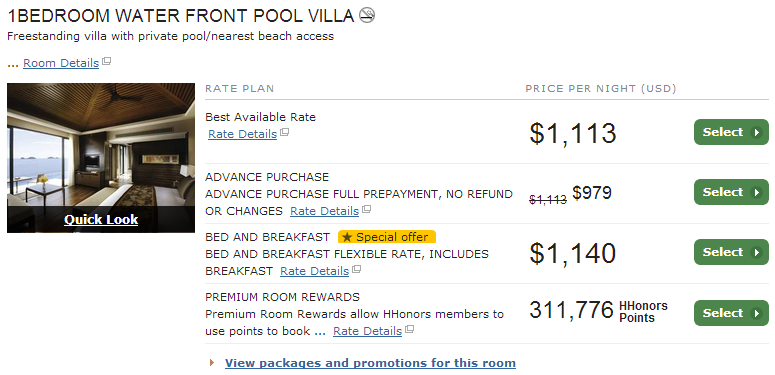 (often rates are easily more than $1000USD/night or an outrageous (300k+) points required)
"So why are you telling me all of this if the deal is over? Are you just bragging about it?" No, I have an even better idea for you, without the hassle of you going through all that "manufactured spending" to accumulate 200,000 points to hopefully stay 2 nights.
Currently Citi is offering their co branded Citi Hilton Honors Reserve Card, which states "Earn 2 weekend night certificates good at select hotels and resorts within the Hilton HHonors portfolio after $2,500 in eligible purchases within 4 months of account opening", and offers "Enjoy the benefits of HHonors Gold status as long as you are a cardmember"
The card carries a $95 annual fee not waived the first year, so to me, this looks like $47.50/night. An even better deal than I got, but it would have to be used on a "weekend", which Hilton defines as Friday/Saturday/Sunday.
The complimentary gold status gives you free internet, free breakfast, and free upgrades, although that won't help you much at the Conrad Koh Samui since all room are villas. The breakfast is a massive buffet style brunch that includes both western and asian options, about 6 different fresh squeezed fruit juices in glass bottles (that I couldn't get enough, especially pineapple), and a huge assortment of treats and snacks.
When I last posted about the small credit hit you would take when applying for a new card, I said I like to get at least $400 in value per application. This one seems closer to $2000.
Keep in mind you can use this redemption for just about any Conrad in the world. I hear great things about the Conrad Hong Kong too.
If you're ready to apply for this card (as well as others I talk about), go to my credit cards page, click on the link for Airline/Travel Rewards cards, and scroll (it's on the 3rd page) to where you see "Citi Hilton Honors Reserve Card" and apply.
Here are some of my photos from the resort:
Have you stayed at the Conrad Koh Samui before? What was your favorite part of this unique hotel?