Reader Question: Flying New York to Fort Lauderdale on Memorial Day Weekend for free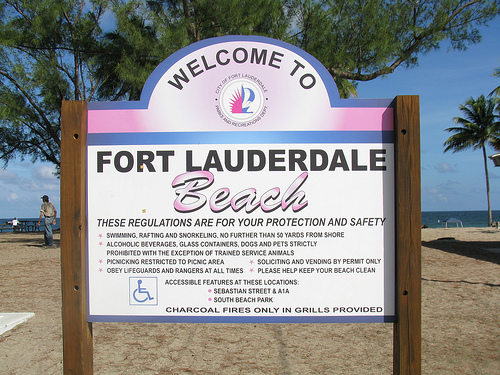 P2S Reader Jay asks: "How can I get to Fort Lauderdale (from NYC) for cheap during Memorial day weekend?" So I figured I'd do a reader question (RQ) post for him on how I would travel there.
Ugh! You just had to throw in the holiday weekend didn't you Jay? Here's the thing with Holiday travel, it sucks, and I'll tell you why:
1. There's always a lot of people traveling during these times, especially families because of the school schedule.
2. Because so many people are traveling, deals and award availability are really difficult to come by.
Now that I got my rant out of the way, let's look into what the requirements of the trip are.
Flying from: NYC airports, including JFK / LGA / I'll even throw in EWR
Flying to: Fort Lauderdale (FLL)
Dates flying: 5/23/14 – 5/26/14 (Fri – Mon, which are the most expensive days to fly)
Jay, since you're new to the miles & points game, I'm going to bring you in slowly. See this post on different types of points. Cash based points are the easiest to use and have no restriction. It's  just like using cash.
Currently Barclay's is offering a card that offers 40,000 bonus miles (after you spend $1000 in 90 days). That 40,000 points equates to $400 off a travel expense, like your flight to FLL.
Other information about the Barclay's Arrival Card:
– $89 annual fee / waived the 1st year
– Earn 2x miles on all purchases
– Get 10% miles back on travel redemption
– No foreign transaction fees

I've found that Jetblue and Delta both fly direct from JFK – FLL, and their economy flights are around $375 and up. I'm going to stick with Jetblue since I think they have a better product and you'll be happier flying with them than Delta in this instance. Here are some Jetblue flights:

(FLL-JFK lowest fare)
As usual, follow good practices like pay your statement off in full every month, get your free estimated credit score reports from CreditKarma & CreditSesame, and remember when your annual fee is coming up (so you can either cancel or ask them to waive it if you want to).
After you're approved for the card, spend $1000 as soon as possible and your miles will usually post by the next billing cycle. You'll then be able to redeem the 40,000 points towards your flight to FLL, which should cover it if rates stay the same. You'll even get 4000 points back.
I know you asked if $85.50 was possible, so hopefully this is good news for you. If rates stay the same it looks like your flight will be completely free and you'll even have $65 left over in rewards to spend towards your next vacation.
If you're flexible and can fly out any other day on both ends of the trip, the rates will drop significantly, and so will the points required.
If you want to apply for the Barclay's Arrival Mastercard with 40,000 bonus points, click on the banner below:
Have fun and bring back a trophy from the tournament.