100,000 points anyone? The biggest credit card sign up bonus' we've ever seen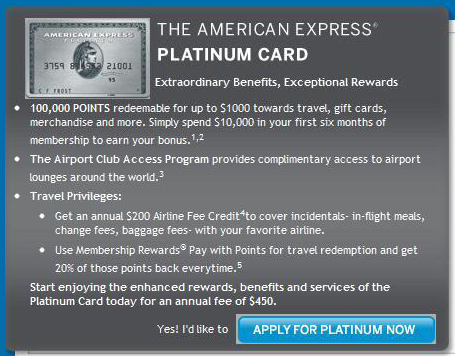 When planning your app-o-rama's (AOR's), or simply signing up for a credit card, I often find myself wondering what's the biggest bonus certain cards have ever offered.
If I see a 30k sign up bonus on their website, is there a hidden 50k link somewhere else? Possibly 75k? What about 100k?
Knowing the largest bonus ever offered may make me wait until that offer shows up again if I can't find a hidden link somewhere. It can be the difference between hundreds and even thousands of dollars in value left on the table if you apply using a lesser link.
Two of the biggest examples of this were when Citi AA had a 75k miles link available, and Amex Platinum had a 100k link available. Who knows if these will ever surface again, but it's good to know they may be possible.
Here's the rest of list of what I personally remember seeing in the past:
AMEX Platinum: 100k
AMEX PRG (personal rewards gold): 75k
AMEX SPG (starwood preferred guest): 30k
AMEX Delta Gold: 80k
Citi AA: 75k (100k mentioned by Thomas)
Citi Thank You Premier: 50k (reports of 100K)
Chase Marriott Premier Visa: 70k
Chase British Airways Visa: 100k
Chase IHG Rewards Visa: 80k
Capital One Rewards: 100k
Most of these offers are only memories at this point, but some are still live. Will the mega bonus' ever return? Who knows, but it's interesting to know what was once offered to entice people to sign up.
If you remember seeing a mega bonus that you wish would come back, list it in the comments and I'll add it to the list.