One of the best weekend hotel deals for couples

Remember how I told you to get your spouse into the game? Well I hope they're on board by now. One of my favorite credit cards to keep and never cancel is the Priority Club Rewards Chase Visa card even though it has an annual fee. Here are the main features of the card:
1. Instant Priorty Club platinum status
2. 60,000 – 80,000 point sign up bonus (after first purchase). If you only signed up for the official 60k point offer, send them a secured message to see if they will match the 80k offer for you.
3. Annual free night certificate for any category hotel after your 1st year of membership.
4. $49 annual fee.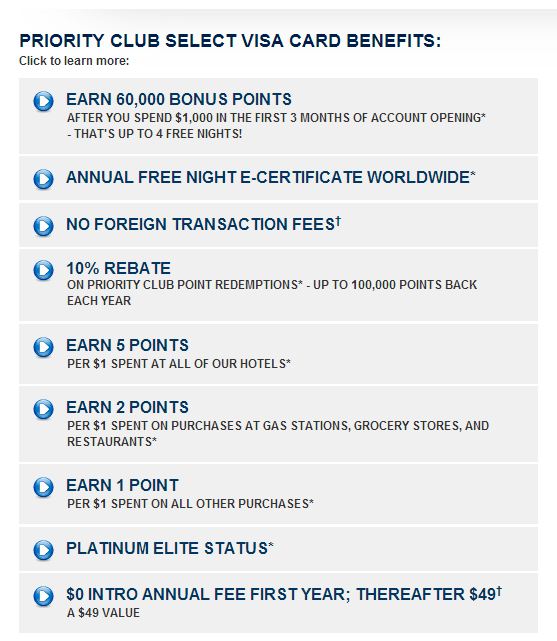 Ugh! I know you hate annual fee's, I do too, but this one is really worth it if you even only like to get away once a year.
The reason I hope you got your significant other on board is because both of you getting this card means a free 2 night vacation to anywhere Priority club has a hotel. I find their award availability to be really good, and they have great worldwide coverage. The things I don't love about PC is that they only have one high end hotel (Intercontinental), and platinum status doesn't get you much at their chain, and doesn't get you anything at Intercontinental, which has a separate loyalty program called Ambassador.
I'm a really big fan of high end hotels. A typical Intercontinental in a major city is going to cost anywhere from $250 – $800/night depending on how busy it is. With both of your free night certificates, you get a weekend free every year.
Where would I use it? Bora Bora, New York, Hong Kong, Las Vegas, should I keep going? (FYI, The Venetian/Palazzo hotels in Vegas are PC partners, which happens to be one of my favorites in Vegas).
If you can't justify $100 in annual fees for a $500- $1600 hotel experience every year, this blog isn't for you! 🙂
Don't forget the 80k points you received at sign up. You can get several intercontinental's for 40k/night. So during the 1st year where you don't have your free night cert's yet, use those points for 2 free nights! (x2 if you got the significant other to sign up too!)
Or save them all up, and after year one, you have 5 free nights in Bora Bora. 🙂