The "Gas" is too damn high! Which credit card to use when buying gas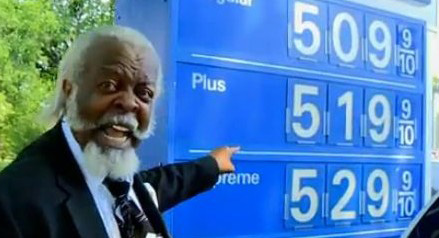 In the words of Mr. Jimmy McMillan, the "gas" is too damn high!
If you're not familiar with Jimmy, go here.
You fill the tank up every week, so what's the best credit card to use when you buy gas to maximize points?
If you're like me and always try to use your credit card to rack up points, it's really annoying to see gas stations charge different prices if you pay with cash or credit (usually 10cents more per gallon).
Fortunately, somewhere in your credit card arsenal, you have a card that gives you better than 1% cash back or 1pt/dollar. That way paying for gas with your credit card makes you feel a bit better.
I'll list a few of the cards that do, then tell you what's better than all of them.
–Amex Premier Rewards Gold: 2pts/$ ($175 Annual Fee)
–Chase Freedom / Citi Dividend / Discover Card: quarterly rotating categories that will give 5% cash back for 1 quarter out of the year. ($0 AF)
–Penfed Visa: 5% cash back year round only on gas. ($0 AF)
I'm sure there are others that offer 2%, but I'm going to tell you why none of that matters.
The most affordable way to purchase gas is to buy gas gift cards from a store where your credit card gives you 5X points or 5% back.
Why? Because when using a gas gift card at the pump, you're charged the cash rate, not the credit card rate. And if you received 5x for the purchase to begin with, that's like getting at least 50 cents off per gallon (at least it is if you're around me & gas is $4/gallon).
So that means even if you have a small car with a 10 gallon tank, you'll be saving around $5 every time you fill up.
You must be wondering where in the world you can always get 5X. If you have any one of Chase's Ink business cards, they offer 5X at office supply stores up to $50,000 every year. That includes Office Max, Staples, & Office Depot. All of these office supply stores have a number of gas gift cards for sale.
Is it worth getting a Chase Ink then? ($95 AF, 1st Yr Free) Other than the 5X office supply store category, they also offer 5X for cellular phone, landline, internet, and cable TV services. No foreign transaction fees, and complimentary airport lounge access at the Lounge Club (2 visits).
And no, this isn't an April Fool's day joke.