Trip Review: Cabo San Lucas / Lovin' that Lounge access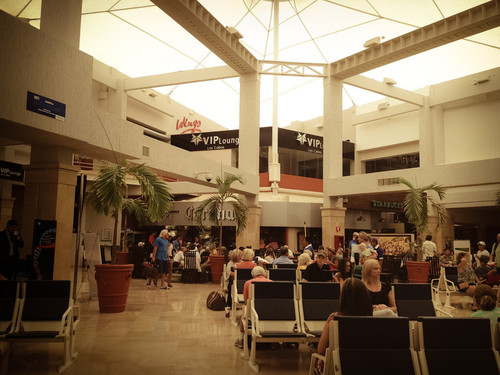 The VIP Lounge above the madness at SJD airport
I received an invite to join a party in Cabos San Lucas, Mexico in late July. How could I say no to the west coast of Mexico? I've only experienced Cancun, & Playa Del Carmen so far and I've heard great things about Cabos. Unfortunately I had very little time to plan, which equates to paying high prices. There was very little I could do about award travel with short notice, and almost no options for deals with all inclusives.
One thing I could count on was complimentary lounge access with my Priority Pass Select card and/or my AMEX Platinum card. I was flying US Airways from JFK (New York), connecting in PHX (Phoenix) for a 1.5 hr layover, and flying out to SJD (Los Cabos, Mexico). The flight back was simply in reverse.
Here are some photos of the inside of the SJD VIP Lounge: (and look, the Houston Rockets game was on!)
I ended up stopping back at the Oasis Lounge in JFK, even though US airways isn't located in Terminal 4. In fact, they're in Terminal 7. Using the AirTrain, it only took 10 minutes to get to T7 from T4. In PHX, I stopped in 2 US airways lounges, bringing in a guest with me. And in SJD, I stopped by their VIP lounge (pictured above). this was a total of 6 lounge visits between me and my guests. Lounge visits generally cost anywhere from $25 – $30 per person.
I've already given rave reviews about the Oasis before and was delighted to be back. In PHX, the US airways lounges came no where close. US airways itself isn't up to par with Virgin America (like I've said in a previous post). The VIP lounge in SJD was a step below the Oasis, but far better than the US airways lounges. They offered sandwiches, drinks, private bathrooms, internet access, big screen TV's, and most importantly, a comfortable couch to sit on and relax.
So although I didn't save on any air/hotel this time, the lounge access made my trip that much more comfortable at every stop, to and from.
Here are various photos from the trip: