Free Money! AMEX SBS Registration Opens 11/24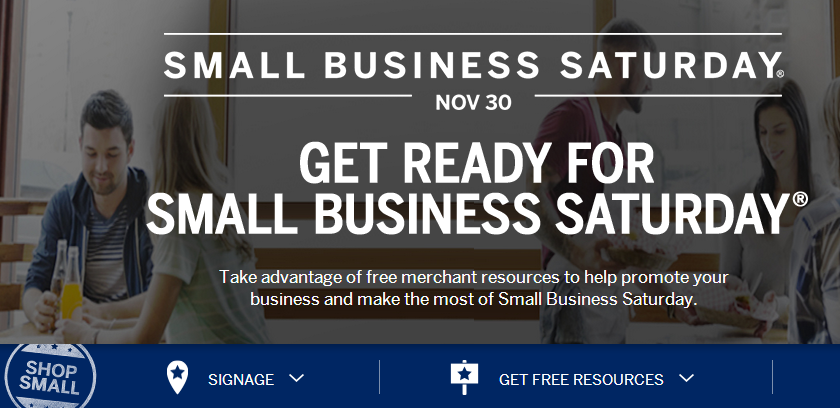 Earlier this year I mentioned something called American Express Small Business Saturday here.
This is/was one of the best promotions in the credit card industry every year. In previous years, and in my previous post, I listed that they used to give a $25 statement credit for every $25 or more spent at small business retailers on SBS after your card was registered.
This year, they've adjusted that down to $10. Boohoo! I guess too many people were signing up for these promotions. Either way, this is FREE MONEY!
One of the best things about this promo is that every single AMEX card you have, along with additional card holders, are eligible for the statement credit. So if you have an AMEX card, and a few family members as additional card holders, that means a $10 credit for each card registered, for all of you!
In my last AMEX SBS post (which was in March) I reminded my users to add some more additional users if it made sense, and in preparation for SBS. Hopefully you listened.
"Registration is limited and opens at 12:00am MST on Nov 24th, 2013 and ends Nov 30th unless registration limit is reached sooner. The limit number has not been disclosed by Amex." (for those of you that are in the New York (EST) time zone, that is Sunday, November 24, 2013 at 2:00:00 AM)
You don't have to adjust your sleeping habits to sign up for this. It isn't THAT limited, but I would do it first thing the following morning.
A couple of useful links are:
www.shopsmall.com (Registration page – will not work until Registration Opens)
www.shopsmall.com/offerterms (Terms and Conditions)
www.americanexpress.com/promote (AMEX Promo page)
This year, AMEX SBS is going to be on Saturday November 30th. (That's exactly 1 week from today, and charges have to be made on that day).
Keep in mind this is to help small businesses. People usually go to their favorite pub, local market or bakery and spend the creditable amount on each of their cards. Keep in mind that gift cards are a good option.
Personally, I love going to Martha's Country Bakery and buying gift cards every year. It usually keeps me full on my favorite berry napoleon cake for at least half a year. Maybe I shouldn't have shared that. 😉
There's also a map on the AMEX promo page that can help you locate small businesses that are registered. I've found that small businesses that aren't on the site will also generate the credit.
Enjoy the free $10 (x however many cards you have). Where are you going to use your credit(s)?