IHG Hotels Pointbreaks – new list for 2013 Q4, & it looks good!
Update 11/1/13! – The new Pointbreaks list is now available for booking! Look at the screen shot below. IC Tahiti for 5000 points anyone?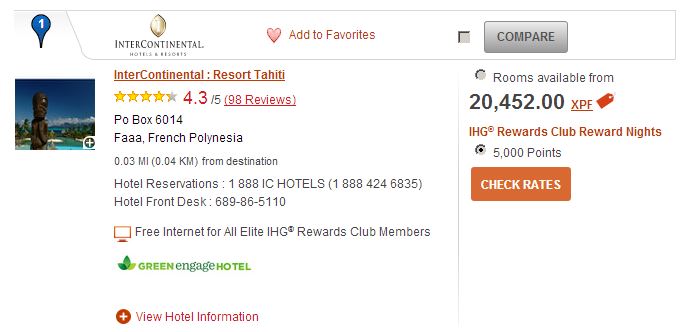 20452 XPF converts to $234.54 USD
5000 IHG points is valued at less than $50
Update 10/31/13! – it appears the full US list is now published. Booking becomes available tomorrow November 1st, 2013 "around" noon. Follow @ihgrewardsclub on Twitter and they will make an announcement when booking becomes available. It would be awesome if one of my readers makes a Pointbreaks award booking. 
A while back, I posted about "the best weekend hotel deals for couples" that involved the IHG (previously Priority Club) program.
Another great thing about the IHG program is that around every quarter, they release something called Pointbreaks, which is a discounted points rate for certain hotels within their brand for the following quarter (so on Nov 1st, 2013 they're going to release the list bookable up until Jan 31st, 2014). The list of hotels on Pointbreaks always changes, so it's interesting to see what appears every time they release the list.
As soon as a hotel's allotment of Pointbreaks rooms disappear, they are removed from the list, so expect to see a pretty thin list by the end of the quarter.
The points rate for a Pointbreaks hotel is 5000 points per night. Since some Intercontinental's are usually 40,000 to 50,000 per night, this can be a huge discount. In fact, it's one of the hotel reward system's best kept secrets. Crown Plaza's and Holiday Inn's are in the range of 15,000 – 30,000 per night, so those are even a great deal.
The list for the following quarter will be found here. It's currently showing the previous list, but will be updated come Nov 1st. Once released, it's going to be to be valid for bookings up to Jan 31st, 2014.
The unofficial list posted by IHG is viewable here. You'll be able to see all the hotels on Pointbreaks internationally, and only 10 in the US. The rest will be listed when it's officially released to the public for booking in a couple days.
Expect good properties to disappear instantly. Once inventory is gone, I wouldn't expect them to reappear, even if someone else cancels.
What really surprised me was that there are 6 Intercontinentals listed internationally, including Tahiti (French Polynesia, more known for where Bora Bora is).
To put this into perspective and show value, the Intercontinental Tahiti shows availability mid January for $234/night. If you value your IHG points as 1cent/point (which is high), then this room is a high $50 estimate per night.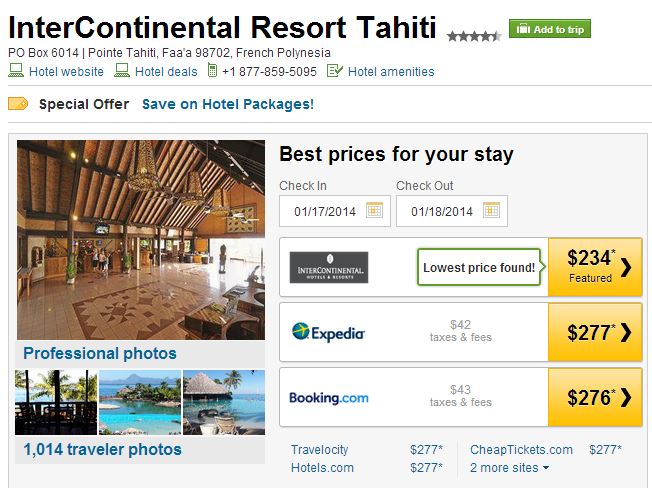 The sign up bonus Chase gives you for the IHG card is anywhere from 60,000 – 80,000 points. That's anywhere from 12-16 nights at any IHG hotel on Pointsbreak! If you used them all at the Intercontinental Tahiti, that's $3744 in hotel room value.
IHG points are also notoriously easy to accumulate. People have reported earning up to 20,000 points with promos on one night's stay.
Unfortunately I won't be going to Tahiti anytime within the next couple of months but maybe one of you will.
Do you see anything on the Pointbreaks list that you'll be able to take advantage of? Or have you ever booked a Pointbreaks IHG hotel?